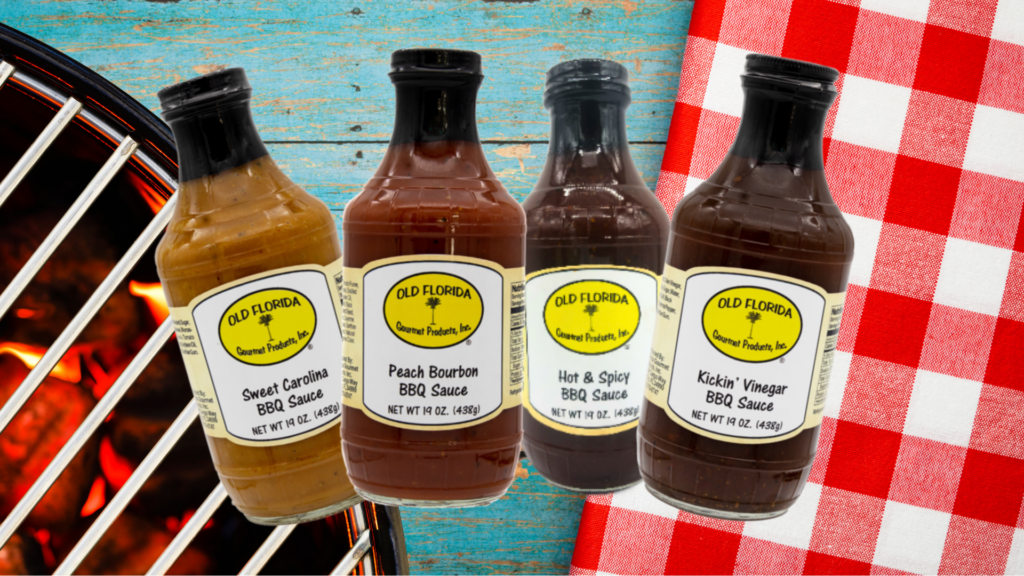 It's officially summer! And that means it's grilling time! Light up that grill, get that protein, and grab a bottle of your favorite BBQ sauce from Old Florida Gourmet!
We use the same approach to our BBQ Sauces that we do with our snacks. All natural ingredients, NON-GMO, and no preservatives. Chock full of balance flavors with four different BBQ sauces to choose from.
Our Sweet Carolina BBQ sauce has all of the hallmark Carolina-style flavors. Tangy vinegar and sweet and spicy mustard. Then there is our Hot & Spicy, and you can't beat the smokey sweet heat with this winner. Perfect for all proteins with that lovely kick of spice. Peach Bourbon BBQ is sweet and full-flavored, with just the right amount of spice and tang that you would expect from a southern-style sauce with that sweet bourbon flavor that lingers. And no BBQ line would be complete without our straight-up Kickin Vinegar sauce that's perfect for a slow-style BBQ and tender meat.
Right now, receive a discount on our Old Florida Gourmet BBQ Variety Pack of 4 with CODE: BBQ and have them shipped right to your door. Sauces can be ordered individually or in a four-pack.
Happy Grilling!