Shipping & FAQ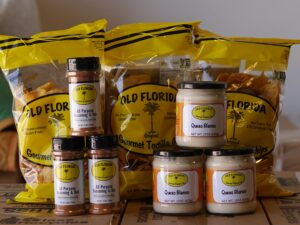 When you order Old Florida Gourmet Products online, you will receive the finest ingredients in our attractive packaging just as beautiful as if you had bought them at the store. Only you won't have to leave home and you can take advantage of our excellent shipping discounts.
We use 200 lb. test boxes to provide maximum protection for your chips and salsa. These are twice as strong as the standard moving boxes you will find at the store and work wonders to protect your jarred salsa. We use packing peanuts to keep your tortilla chips held firm and secure and in one piece.
Orders are packed and shipped within 2 business days. If you need your order shipped ASAP, please indicate it in your order notes.
Feel free to use the order notes section to include any special directions for our shipping department, or if you have a gift note, you can enter it here as well and we'll make sure it's displayed prominently inside the box.
Frequently Asked Questions
What type of container do your salsas come in?
Though plastic is increasingly popular, we continue to use a traditional jarring method with glass mason jars. We believe this is best for health as well as the quality of the salsa.
Will my tortilla chips and salsa arrive in good condition?
We've spent the last 8 years optimizing our shipping practices to ensure everything you order gets to you looking like you bought it off the store shelf. We also separate your tortilla chips from the salsa with additional boxing when necessary. This way tortilla chips and salsa jars are never coming in in contact with one another.
You will see that we take shipping quite seriously. We get many orders daily, and have very few issues. In the unlikely event that you are not 100% satisfied with your order in every way, we will gladly refund your money. We are that serious about customer service.
What does Non-GMO mean?
Genetically Modified Foods are a type of Genetically Modified Organisms (GMO). Why would anyone want to modify organisms, especially the ones they're going to eat? Corn is modified in order to make it more resistant to pests and so it can withstand harsh chemical herbicides and pesticides that would kill the same plant with natural DNA.
Which brings us to the fact that disturbs some consumers – GMO foods have had their "code" of their DNA altered in ways that make them more profitable, but there is conflicting conclusions from studies in regards to the safety of these altered plants. While some of the industry funded studies have declared no concern for long term health, outside studies have found alarmingly high levels of toxins in GMO foods which may pose significant health risks. One of the primary researchers found pesticide residue "levels are much higher than those found to cause toxicity in human embryonic cells and endocrine disruption".
Can I get a discount for my event?
Yes! We get a lot of orders for office events, weddings, catering, parties, etc. Our tortilla chips, salsas, and cheese dips are always a favorite. If you would like to order more than 2 cases, please contact us for special pricing and shipping arrangements. We make it a quick and easy process and you'll impress everyone at your gathering!
Is your question not answered here?
Send us message with your question and we will get back to you quickly.